My Top 10 highlights of 2021 (in no particular order)…
2021 has been a long year, hey? I don't know about you, but I'm exhausted by the uncertainty of everything. Despite all of that, the year did bless me with some amazing experiences, new friends & inspirations.
📺 The hybrid Side Door show I did at The Victoria House was one of my faves of all time. It was my first live in-person ticketed show in 18-months. @theradcyclist is a host supreme & designed a super safe, intimate & interactive garden show.
🎬My weekly livestream 'Musical Mondays' – 45 episodes & counting!
💞 Establishing lasting connections with musicians worldwide on social media. I can honestly say that I now have many friends that I've never met; we've shared knowledge, offered one another support & advice & cheered one another on. Thank you all for being so amazing!
📻My interview with Unsigned BC for their LGBTQ+ episode was one of the best interviews and shows I've been part of. I have great respect for the folks at Unsigned BC & how committed they are to supporting the BC indie scene & creating a safe & supportive space for all.
💓It warmed my heart to have multiple singles charting on the fan-voted The Q Reviews Q32 Music Chart.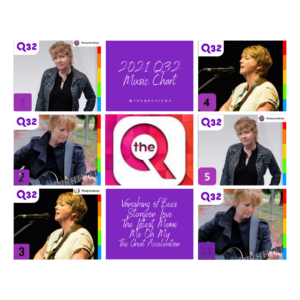 🏳️‍🌈 I loved listening to QueerFM Vancouver's weekly queering of the airwaves.
🎸My single 'Compassion Machine' being featured in 'Guitar Girl' magazine.
🎧Working with awesome artists on remixes has brought new ideas and fresh perpsectives on some of my songs –  Jesse Waldman (Sea in Me remix, released in May), Atlas to Earth ('Vanishing of Bees' remix coming in 2022) and Marty Zylstra ('Me Oh My' remix coming in 2022).
🎙I launched a podcast called 'Mavens & Mavericks' in early 2021 featuring women and non-binary artists. The series explores the intersections between art & identity. Season 1 featured UK singer-songwriter, composer & producer Norrisette, California-based singer, DJ & playlist curator Anna Awe & New Jersey rapper & DIY artist-designer Tye Talley.
🎼 Despite being geographically separated from my bandmates we managed to collaborate on my new singles and a broadcast for Vancouver's Rock 'n Roll Pride.
And, if you read this far, thank you! All the best to you in 2022.
xo
kele