Last week I went for a walk in my local park and chatted with Adam Sawatsky from CTV News Vancouver Island about the latest remix of my song 'Vanishing of Bees' by Atlas to Earth. Adam put together a lovely story about the song, my concern for bees and the climate emergency and how the remixes of my songs are now on the club playlists of DJs around the world. 🐝🌍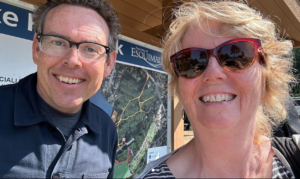 The story aired on CTV News Vancouver Island and then on CTV National News over the weekend. The story created a buzz around the song and it jumped to number 17 on the iTunes Canada Dance Chart!
It's been an amazing journey for me to work with remixers like Atlas to Earth who have transformed my folk-rock songs into dance, electropop and synthwave anthems that are being heard by entirely new audiences. It is my enduring hope and belief that music can move people, can move hearts and change minds and in the process change the world!
Watch the CTV News story here!